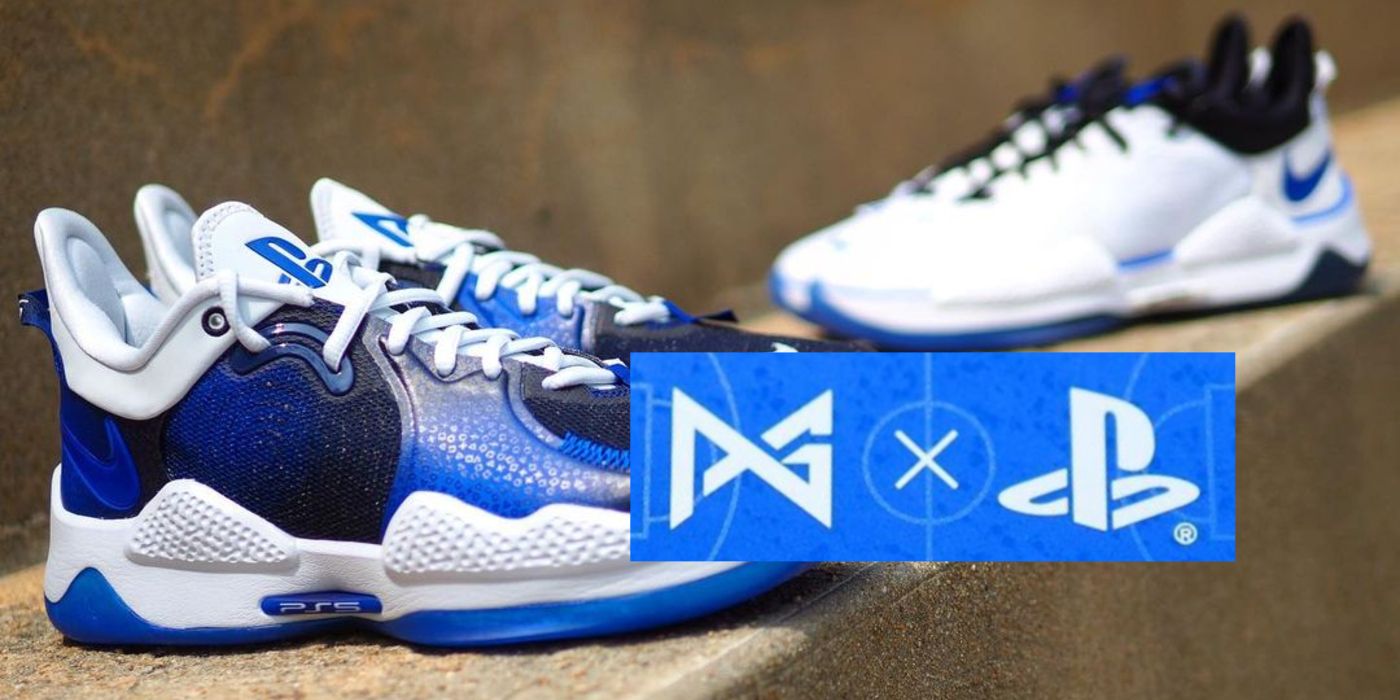 These new PlayStation 5-themed sneakers are a collaboration between Paul George, Sony, and Nike and are set to release soon.
Finding a PlayStation 5 only a few months after its release is easier said than done, but PlayStation fans can get by in the meantime with an all-new sneaker from the creator of 2018's PlayStation 2 sneaker. The Nike PG 5 PlayStation 5 sneaker is being designed by Paul George in collaboration with Sony and Nike, and is set to be released to the public in May 2021.
Two designs have been unveiled for the Nike PS5 sneakers, both featuring stark shades of blue and white – the same color scheme as the PS5. One will be mostly white with blue accents, to represent the physical console, while the other will be mainly blue with white accents, similar to the color scheme of the PS5 home menu. The design of both shoes features the PS5 and Paul George logos on the tongue, insole, and back tab as well as a hanging tag with both brand logos represented.
RELATED: Travis Scott x PlayStation Sneakers Already Have Fakes
The Nike PG5 PlayStation 5 sneakers are currently set to go on sale sometime in May, though no official date has been announced yet. Both PS5 sneaker designs will go on sale for $110 MSRP and they are sure to go out of stock rapidly – for comparison, back in September 2020 Beyonce's Superstar collaboration with Adidas completely sold out in under 10 minutes. For big-name releases such as this, Google Alerts and push notifications are a collector's best friends.
Paul George, who has been in the NBA for a decade and has been the small forward for the Los Angeles Clippers since 2019, has produced his own line of branded basketball shoes for a long time. Back in 2018, he worked with Sony and Nike to produce sneakers themed after the PlayStation 2 and the original PlayStation. The PlayStation sneakers were gray with accents colored after the shades of the face buttons, while the PlayStation 2 sneakers were black and starry, to represent the home screen and color of the PS2 console.
In a post on the PlayStation Blog, George said his love of gaming and the PlayStation consoles growing up inspired him to collaborate with Nike in the first place back in 2018. Nike is no stranger to crossover opportunities with the video gaming industry, either, having released N64, Fortnite, and League of Legends-themed sneakers in the last few years.
The sneakers won't come with a drop of blood like the Lil Nas X Satan Shoe, another recent Nike collaboration – and perhaps that's for the best. Nonetheless, these sneakers will be the perfect addition to a gaming-themed sneaker collection.
MORE: Big PlayStation 5 Exclusives Confirmed for 2021
Source: PlayStation
Returnal Fans Can Pick Up Some of Housemarque's Earlier Games for Dirt Cheap Right Now
About The Author