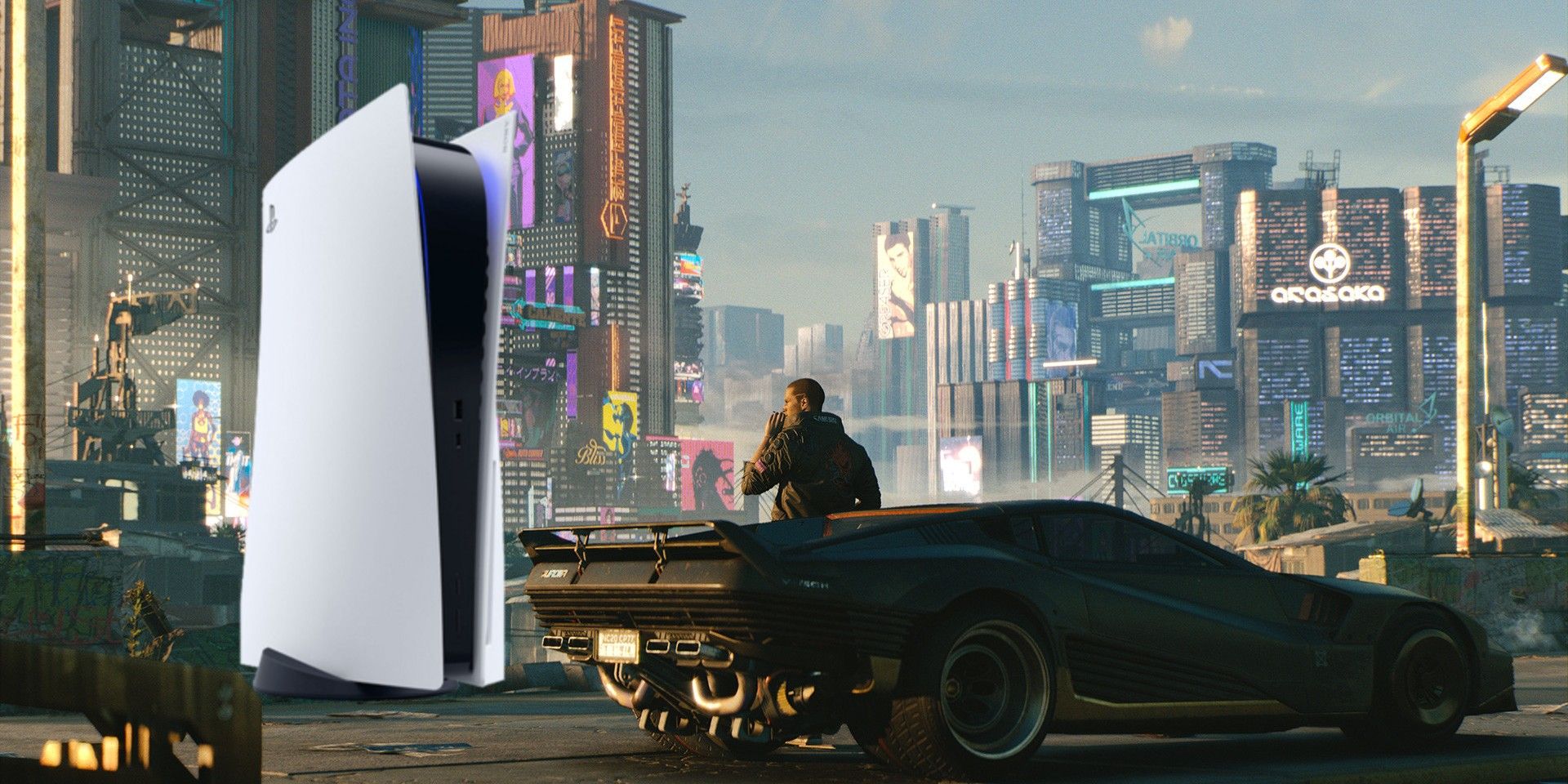 Another talented Twitter user makes light of the PlayStation 5's design, this time turning the PS5 into a skyscraper from a cyberpunk world.
Yet another talented person has taken to the internet to make light of the PlayStation 5's design, this time turning the PS5 into a skyscraper from a cyberpunk game. Ever since the initial reveal of the PS5 in June 2020, the console has been photoshopped to the ends of the Earth to show its resemblance to routers, other technology, and even popped collars from the '90s. In between news about the software and functionality that would come with the PS5 and the next generation, the gaming community was able to entertain itself with these comparisons.
Unfortunately, as of late, these fun jokes have also served as a way for people to take their minds off the fact that they can't get a PS5. PlayStation 5 and Xbox Series X/S consoles have been restocked in brief waves since they launched at the end of 2020, and they don't stay on shelves for long. This means many people haven't even been able to order a PlayStation 5, let alone try one. However, this doesn't mean gamers are entirely without PS5s. In early March, PS5 sales reportedly surpassed 6 million units. Just because it's taking some time for them to get to homes across the world doesn't mean they're not out there.
Related: Why PS5 Stock Is Only Releasing A Little At A Time
As it turns out, in a cyberpunk world, a PlayStation 5 could actually be a home. On Sunday, Game Rant reported a Tweet by @deaddiskdrive that showcases a rendering of a PS5 as a cyberpunk building. This is a somewhat fresh comparison that, frankly, has been sorely lacking from the edits and renderings of the PS5 seen thus far. The PlayStation 5's aesthetic has been heavily praised across the industry; its slick, futuristic design still gets people excited, even though its reveal happened almost a year ago. Recently, a YouTuber even created an entirely brass PS5 that further accentuates the console's overall aesthetic.
A more attractive design may have helped Sony turn the PlayStation 5 into the fastest-selling console in US history. This holds true even with the nightmares that 2020 inflicted on the gaming industry and the world at large. COVID-19 has been terrible for the manufacturing of game consoles. It is certainly not the only culprit, but it doesn't help any. COVID has forced a decrease in the production of certain components that are necessary for modern consoles.
As terrible as it sounds, this component shortage is likely to last through 2022. The bottom line is that there isn't an end in sight to this issue, so the gaming community can expect to see this issue persist for the foreseeable future. Although it's a stretch, creators like @deaddiskdrive keep the mood lively while people wait for the next generation to fully commence, and in times like these, sometimes a stretch is just enough to remind the world of beauty and creativity. A PlayStation 5 as a cyberpunk skyscraper is exactly the creative brilliance and talent that can brighten any video game fan's day.
Next: 5 Months In, Are The PS5 & Xbox Series X Worth Getting?
Source: Game Rant
Dying Light 2's Open World Map Will Be Four Times Bigger Than Original
About The Author